Dryer Vent Cleaning Service
As clothes dry, the lint, dirt, and debris get accumulated into the dryer vent.  This reduces the airflow which can damage your dryer and potentially start a fire.
When clothes take excessive time to dry, you should have your dryer vent cleaned to remove lint blockage.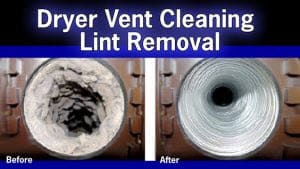 Standard Dryer Vent Cleaning: $180 – $200
Additional charges for dryer vent repair or accessing hard-to-reach crawl spaces or attics.